Circular Economy for Plastics
project group:

funding:

Federal State Baden-Württemberg

Industrial companies in Baden-Württemberg

partner:

start:

01/2020

end:

12/2022
Background
Worldwide, the production of plastics is increasing and with that the dependence on crude oil and secondary plastics. The amount of plastic waste has also increased in recent years - in Germany, especially in the packaging sector. The German recycling figures remain at a constantly low level.
In contrast, there have been considerable changes in the market for plastic waste: Changed import regulations in China influence the price, supply and demand structure, and Germany and the EU are calling for further steps towards a circular economy by tightening the political framework conditions. This is reflected in an increase in recycling quotas for plastic packaging.
The establishment of a closed-loop economy for plastics offers the opportunity to improve competitiveness and resource efficiency. The finite nature of primary raw materials is countered and a reduction in energy consumption contributes to climate protection.

Objective
The aim of the project is to map the German plastics cycle in its current status and dynamics. The focus is on the waste fraction of light packaging and the standard thermoplastics used there, as well as the automotive sector with its technical plastics.
Current political framework conditions and potential changes will be examined and the resulting options for action and effects will be mapped in the system. In particular, the options for action avoidance, material recovery (increase in the recycling quota through improved sorting) and raw material recovery (use of currently unused plastic waste fractions as chemical raw materials including potential assessment) are to be investigated. The different recycling paths will be assessed and compared using techno-economic and ecological indicators.
On the basis of the planned national model for Germany, the following desired effects of options for action should be investigated: (1) the reduction of the use of fossil raw materials, (2) the reduction of greenhouse gas emissions, and (3) economic advantages compared to the current status quo.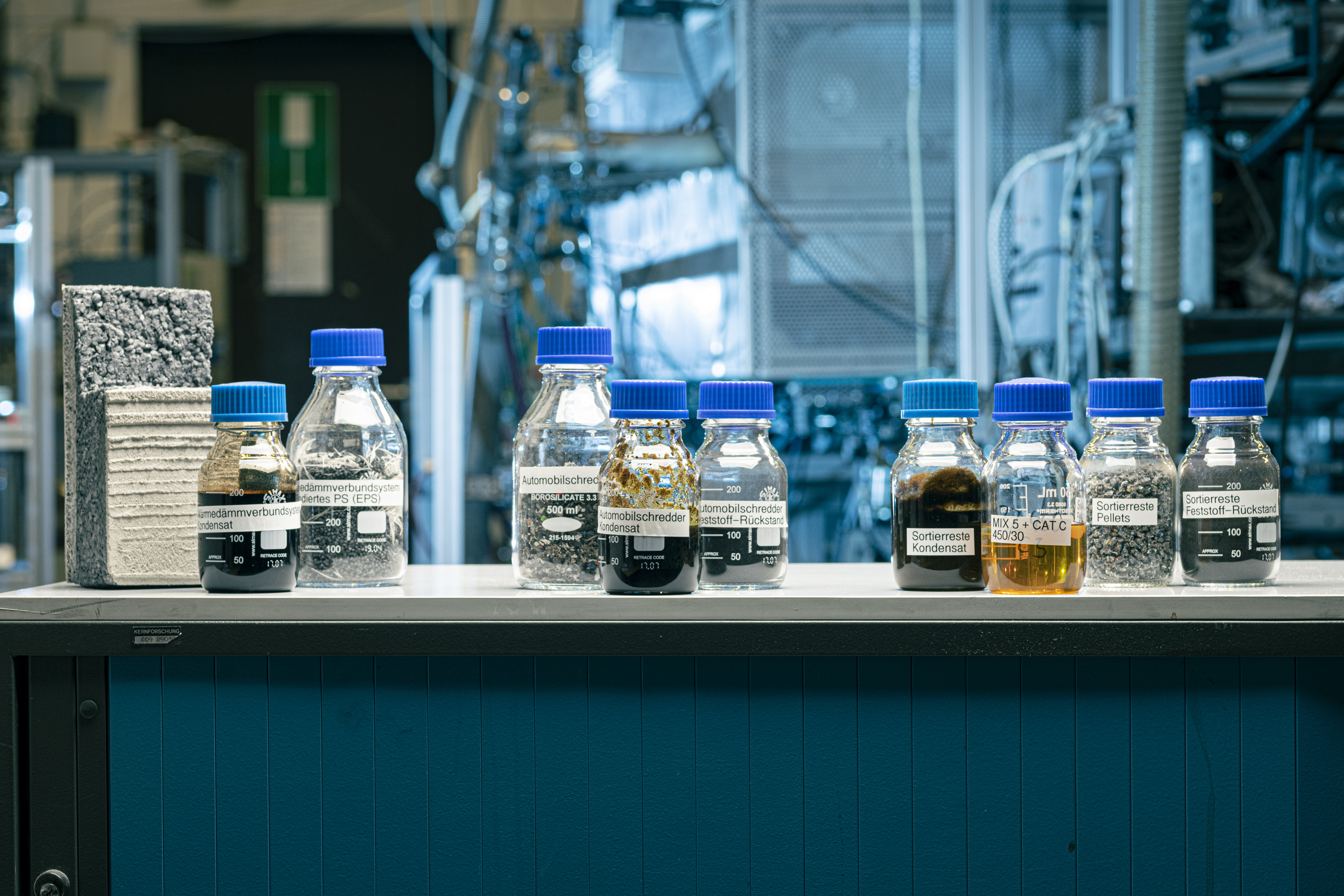 Project Partners
The project is based in the THINKTANK Industrial Resource Strategies at KIT, which was established by the state government of Baden-Württemberg in cooperation with industry and science. Its focus is the holistic view on technological-strategic questions of resource efficiency, resource use, and resource policy.
The assessment of chemical recycling options is performed in cooperation with the Institute of Technical Chemistry (ITC) at KIT. At the ITC, the selected material flows are investigated, experiments are performed on chemical recycling options, and thus the technical feasibility is demonstrated.
Audi and Volkswagen OTLG support the subproject "Chemical recycling of plastics from automotive engineering" by providing plastic components that are no longer needed and also data for the assessment.