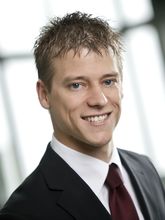 Dr. Kai Mainzer
employé scientifique

Responsable du groupe de recherche

Gruppe:

Energies renouvelables et efficacité énergétique
Domaines d'activité
Recherche connexe pour le concours « ville économe en énergie »,
en particulier analyse des approches méthodologiques existantes, évaluation de leur applicabilité et développement de modèles
Durée : 10.2011 – 09.2016
Efficacité énergétique
Energies renouvelables
Détermination de coûts et potentiels pour les énergies renouvelables et l'efficacité énergétique
Développement d'un modèle d'optimisation de systèmes énergétiques urbains
Analyse de la production d'origine photovoltaïque et de courbes de charge à l'échelle de communes
Systèmes d'information géographique et cartographie en ligne
Enseignement :


Encadrement de travaux de fin d'étude sur rendez-vous
Encadrement de séminaires
Veröffentlichungen
Presentations
Developing a combinatorial optimisation approach to design geothermal-based district heating systems
.
Weinand, J. M.; Kleinebrahm, M.; McKenna, R.; Mainzer, K.; Fichtner, W.
2019, June 26. 30th European Conference on Operational Research (EURO 2019), Dublin, Ireland, June 23–26, 2019
Investigating the Energy Performance of Buildings with a 3D City Model and Thermal Simulation: Results from the Urban Transition Lab
.
Murshed, S. M.; Abdul-Zahra, A.; Koch, A.; Mainzer, K.; Sliz-Szkliniarz, B.; Wendel, J.
2017. The European Conference on Sustainability, Energy & the Environment 2017 Official Conference Proceedings (ECSEE2017), Brighton, United Kingdom, July 7th - 9th, 2017